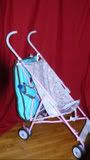 I have a bad back, for several reasons I won't bore you with, but it has been a cause of much invention in the past, and has recently
contributed
to the most remarkable little bag.
You see, we are headed to a rather famous, rather expensive, rather large theme park with the kiddos this summer. The thought of lugging around all the
necessary
items while pushing "Little Miss I'm The Baby of the Family" around in a stroller was not a pleasant thought. I am not one of those huge
stroller
fans either. I had a huge
double
stroller
back in the day, and hated it. You can't steer it, you can barely push it, and good luck going into a store with it! My stroller of choice is the cheap umbrella
stroller
, it folds up super small to fit in almost any space, is light, and only fits one kid so I only have to push ONE KID.
The trouble is, they don't hold anything. You can get a mesh bag for the back, which rips, spills, lets bottles tip over... yeah what a pain. The mesh bags are also as open to rain as they are to seeing. It was obvious to me I needed something better.
So I designed and made this bag. There are 5 special pockets on the outside for water bottles, three similar pockets inside for sunscreen (I am a red-head you know.) Other things provisioned for are sunglasses, lip sunscreen or balm, papers, ponchos, wipes, changes of bottoms for the little ones, and a purse sized first aid kit. They outside is vinyl, for those sudden southern showers, and the inside is a sturdy fabric to preclude ripping at the seams. It's pretty cute too, don't you think?