We have Relief Society Meeting coming up in May. I'm calling it "The Jewels that Journeyed to Join us." It will be all about the Asian sisters in our ward, their history, culture, journey here, and their conversion to the gospel. I want to have the bulletin board up ASAP so I painted the maps tonight.
Fun facts: Laos (where most of them lived before here) is about the size of North Carolina, South Carolina, and Connecticut put together. It is a land-locked country that shares a mountainous border with Vietnam. After the Vietnam conflict a lot of people who helped us over there were forced to flee Vietnam and live in the mountains of Laos. These people have finally been able to immigrate here.

It is an honor to know some of them.
Update: The board is up, so I'm adding pictures of the finished thing.
I strung silver strands from different locations
in Laos to here and along them are the words and "jewels."
Big thanks to Bobbi for supplying the beautiful letters,
couldn't have done it without her!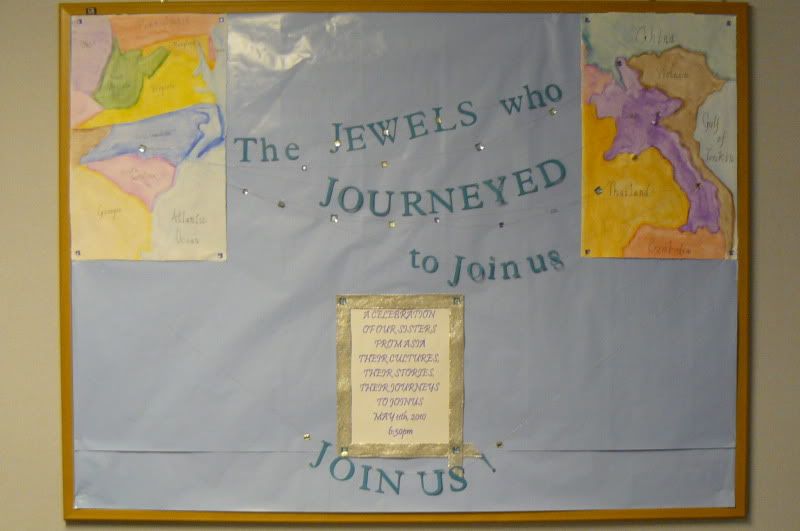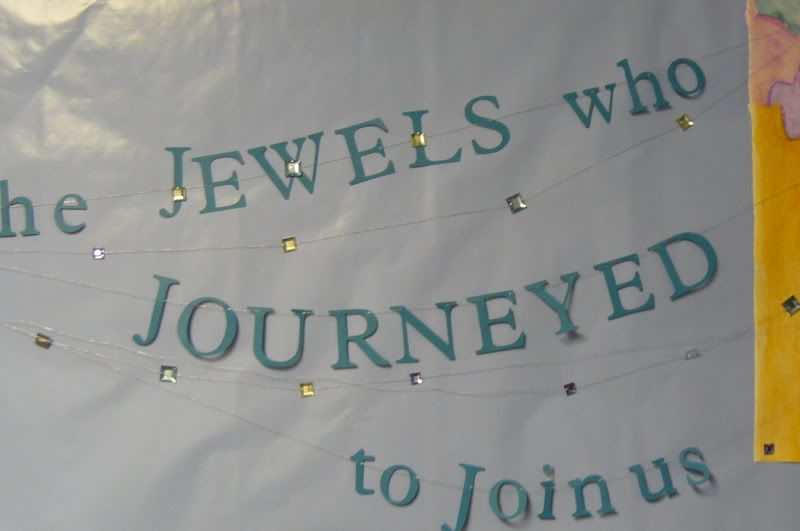 UPDATE:
This is the-one-and-only-me dressed up in the traditional "Red Haired Hmong" New Year Clothes. I thought it was a joke, but apparently this is a real sub-culture and my friends happened to have the clothes. The ladies with me are young Hmong ladies that dance together. They are in "White Hmong" clothes and were very good.
I got a new name last night and everything, "Xob Liam" (said so-la, don't ask me what happened to the letters b and m...) which means "thunder," just like Thora does. I love being called Sister Xob Liam. It was the most fun I have had in ages. Oh, and Mom, you think chicken is good in a coconut milk soup? Try shreaded bamboo. I'm going to have to go to Sister Moua's house to learn to make it, just so I can tell you how.